Asus is going to unveil a new tablet or smartphone (or kind of a hybrid model of both?) at the Computex 2011 event slated to start tomorrow in Taiwan. We have already posted few teaser images of the going-to-be-announced device. Apparently the device has been codenamed "Asus PadFone" and the tag "Pad or Phone" that was attached to the leaked images is also in favor of the name 'PadFone.


Today we have got to see another fresh round of leaked images of the PadFone, courtesy NotebookItalia. The phone might dock into the back of the tablet, if the image posted at the source is suggestive of anything.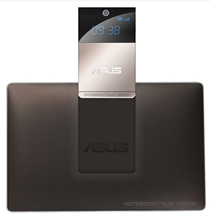 The leaked images show Android soft keys on the device along with docking port (which Engadget believes to be a volume rocker). If it is at all a phone, we are not sure how this different this is going to be from Motorola Atrix 4G which has a laptop dock or if it is a tablet, how different it's going to be from the ASUS's own Asus Eee Pad Transformer with a docking port.
Meanwhile, Asus is insisting that it will be launching new smartphone and tablet at the Computex event tomorrow (via Facebook). We don't know what it's going to be until we see it officially at Taipei tomorrow. We'll keep you about the Asus new PadFone launch.
[Source: NotebookItalia, Facebook (1, 2) ] [Via: Engadget]