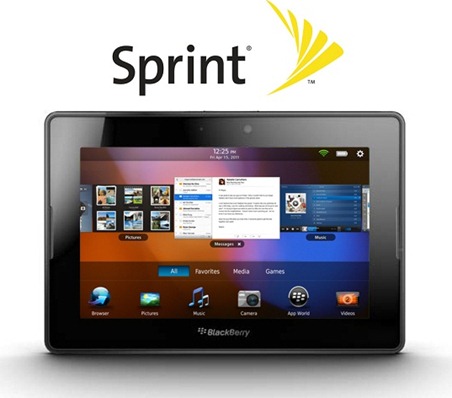 Sprint's Wi-Fi only BlackBerry PlayBook version has hit the shelves yesterday as scheduled. Back at CES 2011 in January, Sprint announced that it would launch the PlayBook in summer. But we didn't have an actual release date until Sprint's public-sector Marketing Director Gerald Evans posted a blog post on his personal blog (which was removed later) last week claiming that the BlackBerry PlayBook Wi-Fi only edition would hit the stores on June 5th. As promised, BlackBerry PlayBook with Wi-Fi is now available at Sprint stores, on its website and as well as through telesales.
BlackBerry PlayBook Wi-Fi special edition is a 7-inch touchscreen tablet with Cortex A9 dual-core 1GHz processor, 1GB RAM, 16GB of onboard memory, 5 megapixel real camera and 3 megapixels front-facing camera for video chats, Wi-Fi 802.11 a/b/g/n, A-GPS, HDMI-out, Bluetooth, HTML5 support, 1080p HD video playback support and powered by a 5300mAh battery.
Read: BlackBerry PlayBook Full Specifications
It is also known that Sprint will soon release the 4G edition of the BlackBerry PlayBook with a bigger 10-inch display and 4G LTE radio. Details about the 4G version of the PlayBook are scarce as of now.
Buy Online:
You can purchase the BlackBerry PlayBook with Wi-Fi for Sprint from the Sprint's official website (hit the link) for $499.99 without any contract requirement.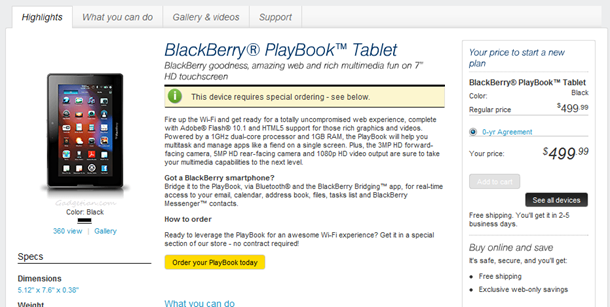 [Via: RIM Press Release]