Coming June 27th, the Taiwanese manufacturer HTC has scheduled an event in London, where the manufacturer is reportedly going to take the wraps off its new devices. This event will be preceded by another HTC event in Utretcht on the June 23rd. Well, we don't have any exact idea about what devices will be unveiled at these events. HTC is also expected to have some tablet-related announcements during these events, and it seems HTC might be introducing its first ever 10-inch Android powered tablet, code named as HTC Puccini. A few months back, HTC has unveiled its first Android tablet, the 7-inch HTC Flyer, and it has been on sale since last month through Best Buy stores.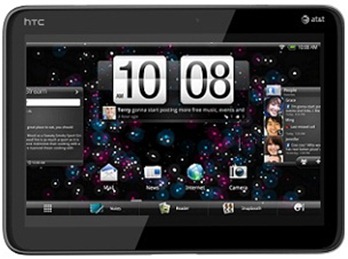 We've been hearing some exciting details, (1), (2) about the HTC Puccini tablet for a while now. Puccini will be a Honeycomb filled tablet, and it is rumored to be hitting the AT&T air waves as the carrier's first 4G LTE capable tablet, and it is expected to be powered by a Nvidia Tegra 2 dual-core processor at an unknown clock speed or there might be 1.5GHz dual core Qualcomm MSM8660 processor inside the tablet.
Read: HTC Puccini Full Specifications.
A few days ago, we've seen a promotional video of Verizon, showcasing some wonders of a mysterious tablet. Many tech blogs are claiming that this mysterious tablet is believed to be Verizon branded HTC Puccini tablet with Big Red's 4G LTE network connectivity or else it could be an upcoming Motorola Xoom 2 with quad-core NVIDIA Kal-El chipset, but there was either no Motorola logo or HTC logo presented on both sides of the tablet.
We have also hearing about the T-Mobile branded HTC Flyer tablet, which has recently approved by FCC, and it is rumored to go on sale in early July. So we may see both the T-Mobile HTC Flyer and the HTC Puccini announcements at the upcoming HTC Event.
[Via: Android Community]