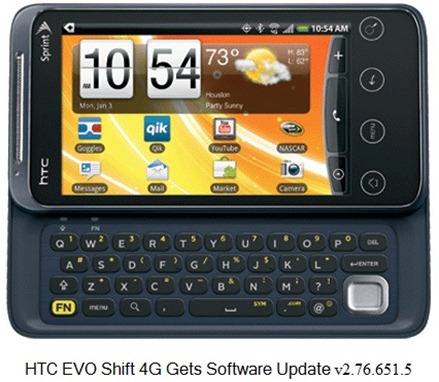 Sprint branded HTC EVO Shift 4G has been on sale since this January, and there was only drawback has been its lack of Android 2.3 Gingerbread OS at launch time. Thanks to Sprint, for finally rolling out the Gingerbread love for the HTC EVO Shift 4G handset in last month. Today, we've another news for HTC EVO Shift 4G handsets' users regarding the new software update. Starting next Monday, August 8th, Sprint will be rolling out an over-the-air update, bringing a bug fix along with it. Sprint branded HTC EVO Shift 4G users have been troubling with some unsorted issues when trying to send a multimedia messages. The new software update with the version number 2.76.651.5 will fix the intermittent MMS/SMS sending issues. No more new features have been included in this new updated code.
Although the new software update 2.76.651.5 (weighing in 3.92MB of size) is scheduled to roll out starting August 8th, some users have already receiving this latest update, according to the reports.
Download
Users of the HTC EVO Shift 4G handsets should see the notification popping up on the display panels. Otherwise, you can manually initiate the update the by going through Menu –> Settings –> System Updates –> HTC Software Update –> hit Check Now –> tap OK –> and select Yes to initiate the upgrade process. After installing the new software update, the upgrade process will bring the version number v2.76.651.5, and the MMS problem should be solved.
Read: HTC EVO Shift 4G Full Specifications.
[Via: Android Central]
1 Comment