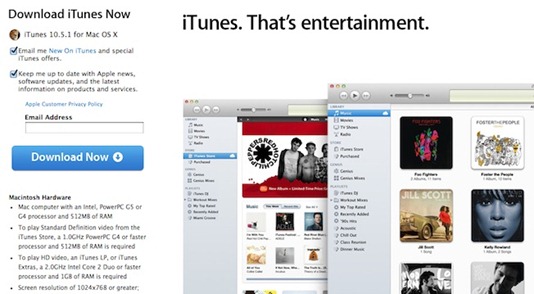 The wait is over guys. Apple has finally released iTunes 10.5.1 version to the masses after months of internal and developer testing and you can download it form Apple's website. The great news is that Apple also launches iTunes Match service. A few hours ago, Apple launched iTunes 10.5.1 Beta 3 for the developers and the beta version focuses on stability and performance improvements for iTunes Match. This new service will replace low quality music files (including songs and albums you've ripped from CDs) with iTunes copies of better quality at 256-Kbps AAC DRM-free quality for $25 per year. Yes, for just US $25 yearly fee, iTunes Match lets you access your entire music collection from the cloud. It is nice to see it finally rolling out.  You can download the iTunes 10.5.1 build from the link provided here at below.
Download Link: iTunes 10.5.1 (65.6MB).
iTunes Match will also scan your non iTunes music library and swap all these files for you. This entire content will be available later to you in the cloud storage and you can settle to either stream it from both your computer or your iOS device, or download locally to any device you want. Users are currently limited to 25,000 songs. iTunes Match is a great solution for those blessed users who are currently carrying an 8GB iPhone 3GS handset.
Source: Apple