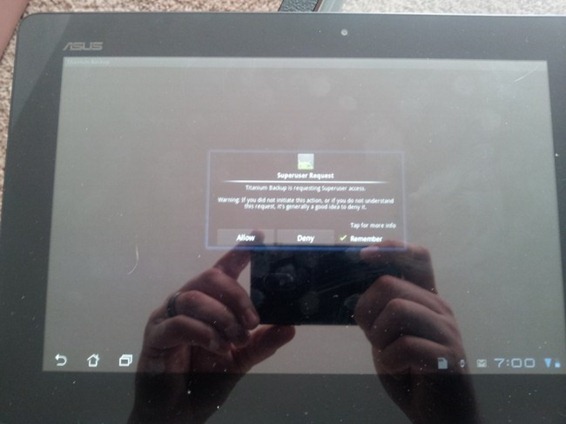 Own an Asus Eee pad Transformer Prime? Unfortunately, the bootloader on the Asus Transformer Prime is encrypted. Good news is that based on consumer demand Asus said that they will be creating an unlock tool. How about rot your new tablet now? A developer named viperboy has released a handy tool viperMOD Primer v1, which will let you to root or unroot your Asus Transformer Prime.
viperMOD Primer v1 is one-click rooting/unrooting tool. viperMOD automates rooting and unrooting in just one simple command script, based on the NachoRoot process created by @TeamAndIRC. We suggests you that you should have at least a basic understanding of what you're doing to your tablet and the risk involved in it before you proceed to root your device.
Download
You can download the easy root/unroot tool viperMOD Primer v1 for Asus Transformer Prime from the link provided here at below.
viperMOD Primer v1 Root/Unroot Tool For Transformer Prime (9.3MB).
How To Use viperMOD Prime v1 Tool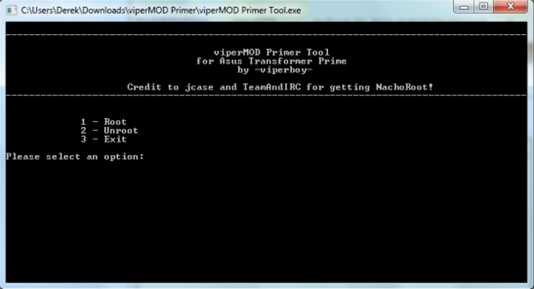 # Download the viperMOD_Primer.zip from the above link.
# Connect the Asus Transformer Prime and install the drivers located in the included .zip.
# Launch the viperMOD Primer Tool.exe and choose an option depending on what you want to do (see in the above image).
Developer has noted that the tool is only available for Windows running PC machines at the moment, but the developer is promising a Linux version in the not-too-distant future. Also keep in mind that Asus said that Android 4.0.3 Ice Cream Sandwich update will roll out from January 15th. A few hours ago, we've also published a story about the one-click root/unroot tool for the LTE capable Samsung Galaxy Nexus handset.
Source: vipermod
1 Comment