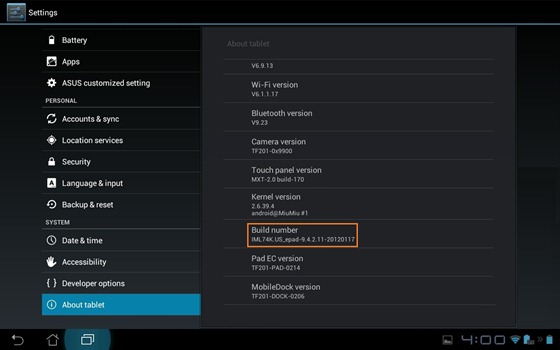 Last week, Asus pushed out the Android 4.0.3 Ice Cream Sandwich OS update for the Asus Transformer Prime tablet. But, the previous update didn't carry the fixes for bad GPS signal and aluminium casing issues. It looks like, the manufacturer has started rolling out another update for Asus Transformer Prime. The latest firmware update brings a new build number IML74K.US_epad-9.4.2.11-20120117, carrying the fixes for GPS and camera. This update bumps the GPS software version up to 6.9.13. According to the reports, the menu icon has changed in the browser and in Gmail. Browser also seems a bit faster and smoother. The full changelog of this update has yet to be revealed out.
Download
Asus Transformer Prime users should be seeing OTA notifications alerts on their home screens, asking them to install it. For all of the users who are impatient, you can grab the update by checking it  manually if you head over to Settings –> About Tablet –> System Firmware Update and then press the Check for Updates button –> If the update found –> Accept it to download and install –> Follow the instructions and Let it to do its task. After successfully finishes the upgrade process, the build number on your Transformer Prime should be shown as IML74K.US_epad-9.4.2.11-20120117.
Don't forget to tell us in the comments when the update finally makes its way to your Asus Transformer Prime from the sky.