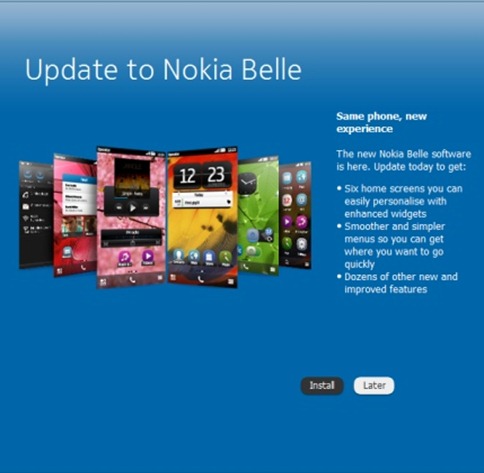 There was no shortage of reports regarding a future update of the Nokia Belle OS for the Nokia Symbian OS powered handsets very soon. The Finnish mobile maker promised that the Belle firmware update for the Symbian Anna running handsets such as the Nokia N8, C7, C6-01, E6, E7, Nokand Nokia X7 on February 8th. Sparingly, Nokia has started seeding the Belle software update. The new firmware number will be v111.030.0609. Nokia Belle build will bring some significant improvements, 6 home screens with enhanced widgets, smoother and simpler menus along with many other enhancements and bug fixes to the system.
Here is the full change-log of the Nokia Belle v111.030.0609 Update:
# Better use of the 256MB of RAM. Better performance in terms of UI responsiveness and multitasking.
# Full NFC functionality on the Nokia C7 – Tap and share images, videos, contacts; Tap and pair Bluetooth accessories. You can also unlock new levels on NFC-enabled games.
# Slimmer top status bar and optional bottom toolbar. So you will have a larger useful display area.
# Home screen with 5 different sizes.
# New drop-down menu to access notifications, connectivity toggles and system status information.
# By long pressing an app's icon, you can now add that app to the homes creen from the main menu.
# Addition of the new Nokia Pure font.
# Lock screen improvements showing missed calls, messages and emails.
# Lock screen with transparency affect to let you see the underlying homescreen wallpaper.
# "Web" updates – Lets you access the multiple windows through a permanent toolbar icon easily. A long press and drag on web page text will pop up a 'Copy' option, so that you can copy that text to the system clipboard.
# Updated "Music Player" with a 'floating track list' in the album art 'cover flow' view.
# Updated "Camera" with the new, streamlined UI.
# The bottom softkeys and bottom toolbar are replaced with a single toolbar comprising up to four icons – Back/Exit, Custom 1, Custom 2, and Menu.
# A rewritten app launcher with default flat structure.
# Newly installed apps will be marked with a red asterisk until you launch them for the first time.
Download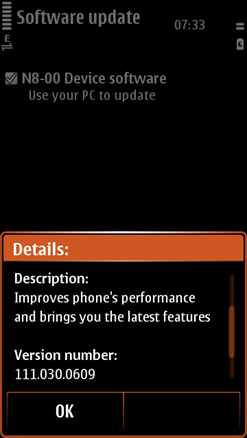 As usual, the Belle update won't be downloadable over-the-air, but the users are required to use Nokia Suite software to download and install the Nokia Belle software update on of your aforementioned handsets. However, you will be notified to check for updates over-the-air (see the above image), but you should be using Nokia Suite to upgrade your handset with Nokia Belle software. You can download the Nokia Suite software from the link provided here at below and follow the instructions.
Link – Nokia Suite for Windows.
# Download Nokia Suite from the above and install it on your Windows running PC machine.
# Launch Nokia Suite tool.
# Connect the handset to your PC.
# Be careful and and backup your data before you do anything.
# On Nokia Suite tool, go to Menu > Applications > Tools or Phone > and select Phone Update or  SW Update –> If you found the update –> Download the 300MB size update (or else it could be ~ 390MB or 270MB).
# Follow the on-screen instructions till the upgrade process finishes successfully.
# That;s it. Done. Enjoy Nokia Belle.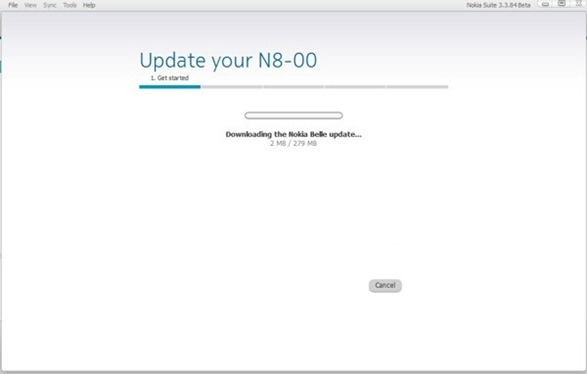 Via: All About Symbian