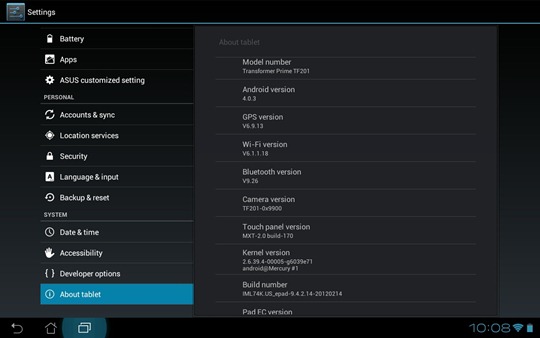 Looks like Asus is working so hard to keep its customers always up-to-date, with regular enhancements and upgrades have been including via OTA software updates for Asus transformer Prime tablets. Just 9 days ago, Asus has rolled out a software update 9.4.2.13 for Prime. Today, the manufacturer has started rolling out another firmware update, bumping the software version up to 9.4.2.14. Nice work, Asus.
In an XDA thread, Asus Technical Marketing Manager Gary Key has stated that:
".14 will be released tomorrow (US/TW, WW/DE/Others early next week) ,should solve the power problems that some users experienced after the .13 update."
So the new software update 9.4.2.14 is meant to sort out the problems that cam along with previous software update, which was rolled out, carrying the new versions for Wi-Fi, Bluetooth and Kernel software. A lot of users are reporting about better battery, which is due to the proper power states (low power usage while idling).
Please keep in mind that like all the previous software updates, this update 9.4.2.14 update also breaks ROOT.
Download
Asus Transformer Prime users should be seeing OTA notifications alerts on their home screens, asking them to install it. For all of the users who are impatient, you can grab the update by checking it  manually if you head over to Settings –> About Tablet –> System Firmware Update and then press the Check for Updates button –> If the update found –> Accept it to download and install –> Follow the instructions and Let it to do its task. After successfully finishes the upgrade process, the build number on your Transformer Prime should be shown as IML74K.US_epad-9.4.2.14-20120117.
Source: XDA Developer Forum