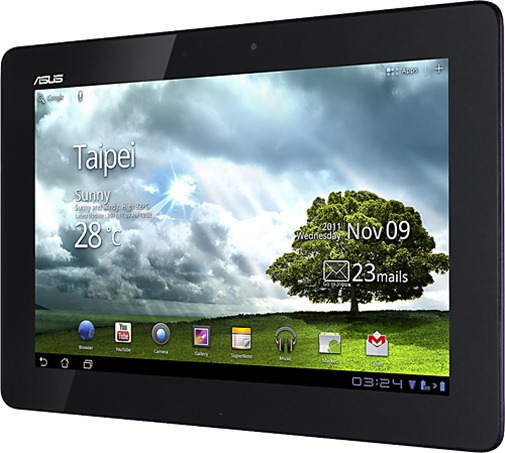 A couple of days ago, on its Facebook page, Asus has announced that it was preparing a new firmware update that will bring a set of "awesome" features for the Asus Transformer Prime tablet. According to the users reports, Asus has started rolling out the new software update 9.4.2.21 for the Transformer Prime tablet in the U.S. It will bring Face Unlock, notification controls from the lockscreen, camera improvements and more.
Here's the full changelog of the new firmware update 9.4.2.21 for the Asus Transformer Prime:
# Addition of the Face Unlock feature.
# Addition of the Lockscreen notification controls.
# Additional updates to Google's "Play" apps.
# Asus Vibe update to version 2.0 with new interface; Support for an upcoming Ethernet accessory.
# Support for LAN connections using USB converter
# Camera no longer needs to be updated separately, will happen with system updates; A new mechanism to allow for easier camera updates
# Support for Ad-hoc network connections now supported.
# Improved HDMI support – HDMI-to-TV viewing can be switched from portrait to landscape.
# Various ASUS app updates.
Download
Asus Transformer Prime users should be seeing OTA notifications alerts on their home screens, asking them to install it. For all of the users who are impatient, you can grab the update by checking it  manually. So, be sure to check it by heading over to Settings –> About Tablet –> System Firmware Update and then press the Check for Updates button –> If the update found –> Accept it to download and install –> Follow the instructions and Let it to do its task. After successfully finishes the upgrade process, the build number on your Transformer Prime should be shown as IML74K.US_epad-9.4.2.21-20120323. But, Android OS version still remains at 4.0.3. Please sound off in the comments to tell us how the update is working you!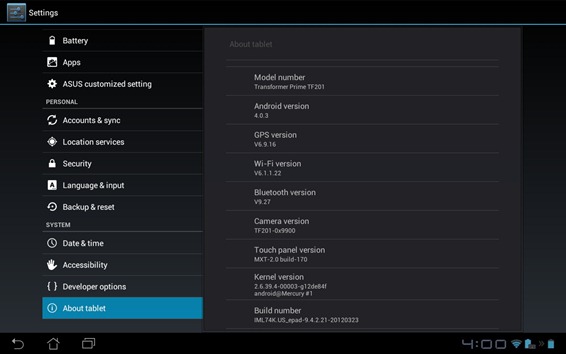 Hit on the above image to view it in bigger size.
1 Comment