Heads up, the owners of the Sony Ericsson Xperia Arc/Arc S and Xperia Neo/Neo V. All these handsets have now joined the Ice Cream Sandwich club officially. Sony Mobile has announced that it's begun pushing a new update to the Xperia arc, arc s, Xperia neo and neo v that'll bump Android version up v4.0.4 Ice Cream Sandwich on these devices. The new build number is 4.1.B.0.431. No changelog of the update has been provided by the manufacturer yet. Both the Xperia arc s and neo v handsets were previously running Android 4.0.3 ICS build. So, the new v4.0.4 firmware is hitting these handsets too.
Along with the ICS goodies, the update will also bring re-sizeable widgets, folders, Face Unlock feature which lets you to unlock the device just by looking at it, Data Usage controls, system bar enhancements, improved text input, improved spell checking and more.
Download
The Android 4.0.4 ICS OTA update is being rolled out in the stages now. If the update has yet to reach your handsets, you can check for it manually by heading into Settings –> About Phone –> Software Update –> and tap the Check button –> If you found the update  –> install it and follow the on-screen instructions till the upgrade process finishes successfully. Don't forget to let us know once you get the new software installed.
Xperia arc, arc s, Xperia neo and neo v owners can find out which SI numbers have been updated to ICS using the following links at below:
Xperia arc SI numbers
Xperia arc s SI numbers
Xperia neo SI numbers
Xperia neo v SI numbers
Here's the screenshot of the Android 4.0.4 Ice Cream Sandwich running Xperia neo v handset: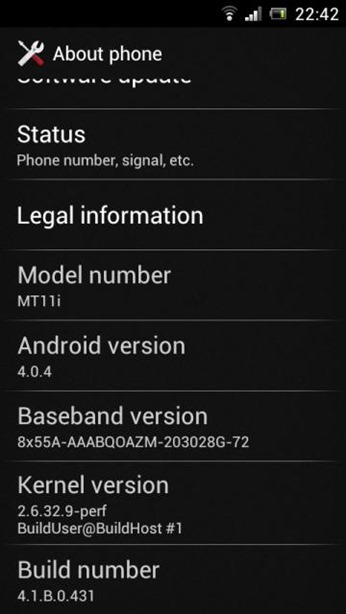 Source: Sony
5 Comments