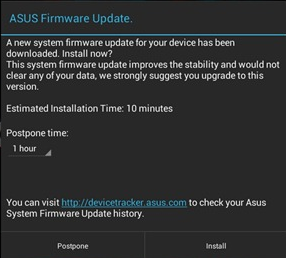 It has been reported that the 10.4.2.13 Jelly Bean Update for ASUS Transformer Pad TF300T is now available. As the TF300T has already been updated with 4.1.1 Jelly Bean, no significant changes are observed by the users. Users on XDA are reporting that the OTA Update appears to be a gimmick. But some of the TF300T users also report that this upgrade makes some stability, performance, and usability improvement besides fixing some bugs.
This update upgrades the tegra-3 based tablet to Jelly bean version 10.4.2.13 and also brings the tablet up to version 10.4.2.13 still base upon the Android 4.1.1 Jell Bean. This minor update is bringing the model up to firmware version IML74K.US_epad-9.4.5.30-20120907.
To grab this new update, Transformer Pad TF300T owners should go to Settings > About tablet > Software updates to see if the new version is ready to download onto your tablet.
Asus has been pushing out minor OTA updates to its Tablets. Recently its Transformer Pad Infinity users also got an update.
Source: [XDA]
1 Comment