The Jelly Bean update rollout process for the Asus Transformer Pad Infinity has begun in last month. Asus has got a great reputation reputation for its timely updates. We've one more news today for the owners of the Transformer Pad Infinity tablets. A new minor update is being pushed out now for the devices, the brings the software version up to JRO03C.US_epad-10.4.4.18. Android OS version still remains at v4.1.1 on the tablet.
This is a minor update and the build brings a set of bug fixes. Here's the full changelog the new firmware update, provided by Asus:
Camera (All SKUs)
Fix the issue that switching to front camera in Facebook app would cause Facebook app to crash.
Wi-Fi (All SKUs)
Fix the issue that some 802.1x Wi-Fi APs cannot be connected after upgrading to Jelly Bean.
ASUS Software Keyboard (All SKUs)
Fix the issue that "Y" and "Z" characters are opposite in ASUS Czech (QWERTY) keyboard.
Fix the issue that Backspace key on dock does not work in Browser input field to delete words randomly.
Widgets (CN SKU only)
Fix the issue that user selects Google Search Widget in "Widgets" page would cause 'this widget not responding.'
Browser (All SKUs except CN SKU)
Added Google Bookmark sync function to Android Default Browser.
Encryption (All SKUs)
Fix issues that, with the TF700T encrypted in ICS and Wi-Fi on, user cannot enter system after upgrading to Jelly Bean.
With TF700T encrypted in Jelly Bean and restart pad with Wi-Fi on, user cannot enter system.
Download
Those with Transformer Pad Infinity TF700Ts should be able to grab the update now by heading into Settings > System Firmware Update > Check Update. Users, who own the unlocked pad Infinities with the ASUS bootloader unlock tool, won't be notified to install this update. They've to wait till Asus provided the full ROM on its website.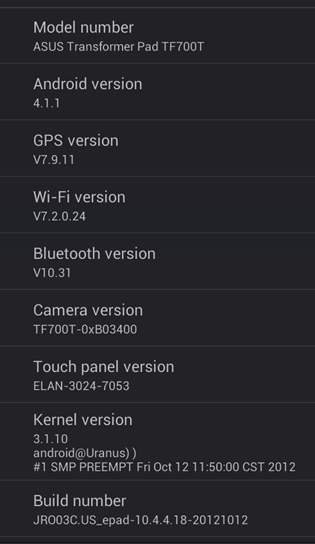 Source: ASUS
1 Comment