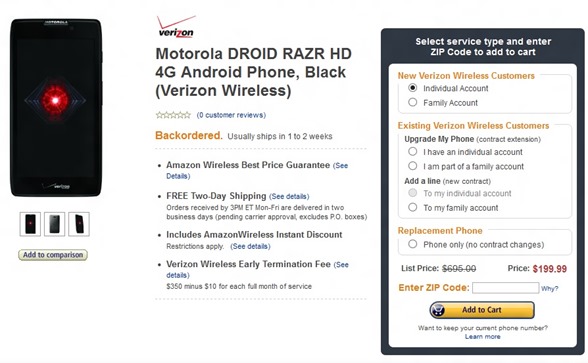 As promised earlier, today Verizon has started selling both the Motorola Droid RAZR HD and Droid RAZR MAXX HD handsets on its website and in stores across the U.S. You can also purchase both handsets at Amazon Wireless website. The RAZR HD (white or black) goes for $199.99 on contract and the RAZR MAXX HD is available for $299.99 in black color edition only.
# It is only 8.4 millimetres thick
# A 4.7-inch Super AMOLED HD with 1280 x 720 pixels of resolution, 312 PPI
# 1.5GHz dual-core processor, 1GB RAM
# 8MP rear camera with 1080p HD videos recording capability, 1.3MP front camera
# 16GB onboard memory (12 GB End User), microSD card slot
# NFC, Wi-Fi a/b/g/n, micro USB 2.0
# 2530mAh battery
# SMART ACTIONS app
Motorola DROID RAZR MAXX HD sports all the same features of the RAZR HD handset, it houses a powerful 3300mAh battery and 32GB internal storage.Both devices boot Android 4.0.x Ice Cream Sandwich OS out of the box and will be upgradeable o Android 4.1 Jelly bean in the near future.
Hit the appropriate links at below to purchase the new Motorola Droid RAZR HD phones.
Droid RAZR HD – Verizon | Amazon Wireless (Black, White)
Droid RAZR MAXX HD – Verizon | Amazon Wireless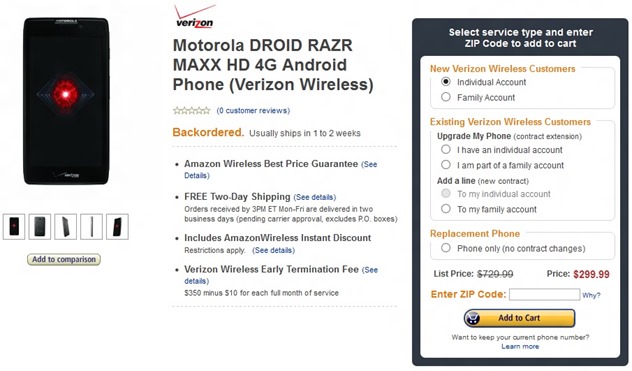 Source: Amazon, Verizon