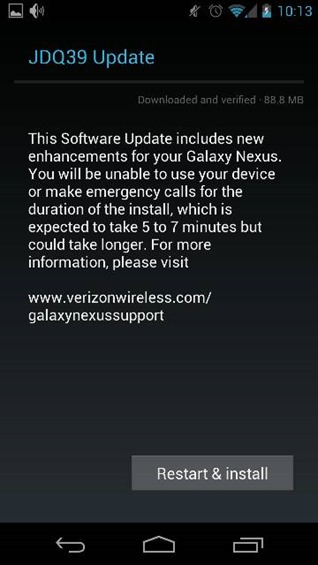 The GSM/HSPA+ capable and Sprint branded Samsung Galaxy Nexus owners have been enjoying Android 4.2.2 goodies for months. Verizon always comes late to the party. Finally, Verizon Wireless has released the most awaited Android 4.2.2 Jelly Bean update for its CDMA/LTE version of the Galaxy Nexus handset. Verizon has a track record for holding the software update for every Android phone that comes from it.
Verizon has officially announced on its support website that an update to Android 4.2.2 Jelly Bean is going out to its Galaxy Nexus starting yesterday, Included in the update are the regular Android 4.2.2 goodies – Photo Sphere that lets you to capture Google Street view-style 360 degree panoramic photos and share them on Google+/Google Maps. There's a new Notification Panel that brings Thumbnail icon on the top right corner of the screen, updated Date display area. Other specific additional changes are including DayDreams, lock screen widgets and the new trace keyboard and more.
The update bumps the build number of the device up to JDQ39 and new version will be referred as i515.FK02. Here's the full changelog of the Android 4.2.2 Jelly Bean update for Verizon GNex:
PHOTO DISPLAY
Connect a wireless display adapter to any HDMI-enabled TV to mirror mobile screen.
Enable wireless display to share movies and YouTube videos.
PHOTO SPHERE
Snap Google Street view-style 360 degree panoramic photos.
Share photo spheres on Google+ or Google Maps.
NOTIFICATION PANEL
Thumbnail icon has been added to the top right corner of the screen.
Date display area has been updated.
This will expand to a Quick Access grid. (for example: Bluetooth, GPS, Wi-Fi settings)
WIDGET CONTROL
As user places widgets on the home screen, everything else on the screen automatically resizes to make room for the new widget
CAMERA
Long press the camera key to view the new camera UI and pinch and zoom with two fingers instead of the slider
LOCK SCREEN
Calendar, Gmail and Clock widgets are now available on lock screen
JELLY BEAN AND OTHER DEVICE ENHANCEMENTS
Enhanced Accessibility

Enable screen magnification to easily zoom or pan the entire screen
User can enter full-screen magnification with a triple-tap on the screen

Widgets automatically resize on user's Home Screen
Google Now shortcut has been changed and relocated to bottom of lock screen
Daydream

Display useful information when idle or locked
Show off your photo albums and get the latest news from Google Currents

A smarter keyboard

Gesture Typing allows you to glide your finger over the letters you want to type, and lift after each word
The keyboard can anticipate and predict the next word, so you can finish entire sentences just by selecting suggested words
Verizon notes that the 88.8MB update is being pushed out over the air in phases now. You can try to check for the update manually by heading into Settings > About phone > System Updates > Check Now. So, Verizon folks, what are you waiting for? Start hitting the Update button and get the latest version of Android once again on your handsets.
If the update notification has yet to hit your handset, you can grab the manual update file from the link provided here at below.
Download (Straight from Google)
Source: Verizon Wireless