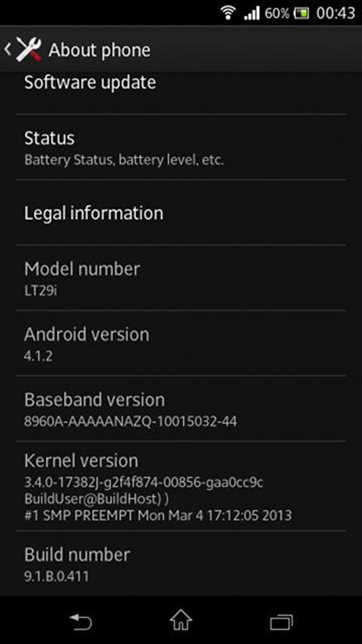 Finally, Sony Xperia TX handset is now ready for its taste of Jelly Bean. Back in December, Sony Mobile Blog promised they will roll out Jelly Bean software by the end of March. As they promised earlier, Sony has officially started pushing out the Android 4.1.2 Jelly Bean update for the Xperia TX handset. The build number of the handset bumps up to 9.1.B.0.411. There's no specific changelog available for the Xperia TX's Jelly Bean update.
Just like Xperia T, V, and T, the Xperia TX will also get the following changes and enhancements.
Updated, more intuitive versions of Sony Media apps: WALKMAN, Album and Movies
Lets you view and access all your photos, videos and tunes in one place.
Increased options for personalization
A revamped home screen experience for handling widgets, apps and shortcuts… With up to 7 desktop panes, widgets that auto-resize and actionable notifications, you have complete flexibility to create the interface you want / need with a few simple touches!
Improved app organization and search
Application tray sorting is that bit breezier – just press and hold on any app – move, add it to your desktop or create a folder within the tray by dropping it on top of another! We've also added a new search function within the application tray that makes it easy to locate your local apps.
Improved camera functionality
More intuitive viewfinder with the addition of auto scene setting, and the option to switch between front and back camera with a single touch.
Google Now
Combining the power of Google search and user profiling, Google Now helps you accomplish daily tasks more efficiently. Click here to know even more.
It looks like the Jelly Bean update is rolling out through Sony's "PC Companion" desktop program. So, users are required to connect their device to PC via USB cable and launch the PC Companion tool and follow the on-screen instructions to finish the upgrading process successfully. The update is also being rolled out over-the-air (OTA) in some areas. Any Xperia TX owners that want to try and grab this update manually, can check for it by heading into Menu –> Settings –> About phone –> Software update –> and hit Check Now button.
Source: Sony Mobile Blog