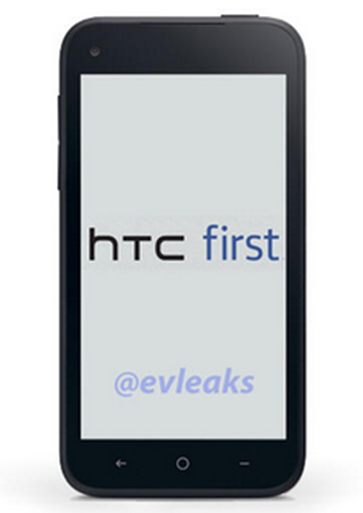 We've already reported that Facebook is set to unveil its home panel replacement for Android at an event on tomorrow.  Facebook's home panel replacement for Android will be called " Facebook Home" and it will bring social features directly to your smartphone. Facebook is also expected to launch an Android phone with Facebook Home preinstalled. Facebook Home service will offer a number of dynamic Facebook feeds for your handset.
Now, @evleaks is back with a render image of an Android phone called HTC First, along with the rumored specs. The Twitter leakster is claiming that it will ship with Facebook Home service preinstalled.
According to @evleaks, HTC First smartphone will have the following specs:
# 4.3-inch display with 720p resolution
# Qualcomm Snapdragon dual-core processor
# 5MP rear-facing camera
# Android 4.1 Jelly Bean OS
So, the aforementioned specs sheet lines up with what we've heard previously. According to previous reports, the code name of the HTC First phone is "Myst" and it will have Sense 4.5 UI and it will be released by AT&T in the United States. You can also note that the font and color used on 'First' is pretty similar to Facebook logo.
HTC has previously launched a couple of Android phones with dedicated Facebook buttons. The list of the devices include HTC Chacha (aka HTC Status for AT&T USA), HTC Salsa.
What do you think? Are you ready to believe in a HTC First phone with Facebook Home service preinstalled? Be sure to keep checking in with us as we bring you more updates from tomorrow's event.
Source: @evleaks